Snack Display Case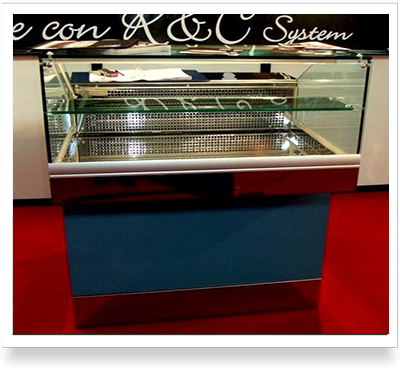 STATIC SNACK DISPLAY CASE

Supporting structure in a steel tubular painted with epoxy powder in oven-dried, stiffness elements and adjustable feet. AISI 304 18/10 Stainless steel worktop 250 mm, shining finishing. Anticondensation system by an electronic resistance located in the lower profile and in the sides. Static refrigerating system with hermetic group and automatic defrost. Electronic control panel located in the back structure on operator's side and temperature display located inside the display case. Working temperature +4° +8° over the entire display surface.

VENTILATED SNACK DISPLAY CASE

Ventilated refrigeration system. Through the electronic control unit it is possible to manage the temperature's control. Working temperature from +4° over the entire display surface.

SNACK DISPLAY CASE WITH REFRIGERATED CASE

Refrigerated case with static evaporator where refrigeration is produced with the same hermetic group of display case. Intermediate grilles not insertable.

All the snack display cases have the tempered front glass, which can be opened in a compass way and is available in the curved version h. 1350 mm, straight h. 1350 mm and straight h. 1160 mm. Two shelves of 210 mm are provided in the curved and straight glass h. 1350 versions; the straight glass h. 1160 mm version is equipped with a single shelf of 210 mm.